Career Planning

on Steroids
The world's first gamified, self-directed, and science-backed

Career Planning Tool

.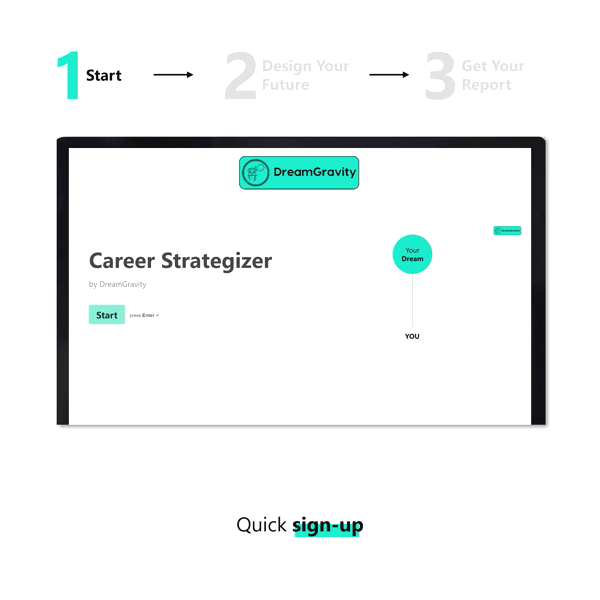 Career Coaching, Reinvented from the Ground Up
We've Personally Faced Your Problems…
You're feeling stuck in your 9-5 job, you're sick of the daily routines you have to go through each day
You don't know where your career is going, you're indecisive of what to do in the long-run
You're not excited about your future, you're not movitated at work.
You find talking to a career coach to be too expensive (USD200/hour… ouch) and awkward
How We Make Those Problems Go Away
We've packed all the career advice you'll ever find online and through career coaches into one fully digital tool (0 awkwarndess)
Paint a picture of a future you'd absolutely love! A CEO of a Fortune500 Company? A Smart-Watch Entrepreneur? You choose!
Bring that picture to reality by picking and choosing from a series of actionable goals and plays we curated
Document your masterplan in one beautiful report
CRAFT A FUTURE THAT EXCITES YOU
Our tool will provide you with inspiration, case studies, concepts, and frameworks. all you need to do is make choices! What would you want your future "Month in the Life" to look like?
We provide you with a list of goals to choose from, hand-pick goals that will get you closer to your dream future.
GET A BEAUTIFUL CUSTOM REPORT
Beautifully document your strategy and keep it safe in all of your devices.
Associate Consultant at Rizing HCM, ex- PWC Consultant
"I absolutely loved completing the exercise, I thought that they were going to push people into going for pre-determined career paths, but this exercise is completely self-led. It is a worthwhile experience and it could bring a lot of peace into your life as I know it has for me."
Ex-Analyst at Goldman Sachs Asset Management
"I found the Career Strategizer to be interesting and insightful! It'll be very useful for students, graduates, and professionals to have some guidance on areas to focus and think about."
Credit Risk Analyst at JP Morgan
"When I got the product, I was almost in tears. If you are a graduate or have just entered into your graduate role but you don't want to be stuck in the corporate world for a very long time because you have bigger, more audacious goals, then this product is definitely for you."
Growth at Stealth Restaurant Tech-Startup, Ex-Investment Banker
"For a career nerd like me, I really enjoyed the volume of content in the tool!"
What People Love About Us
Ready to build your future?
Take a sneak peek of the tool!