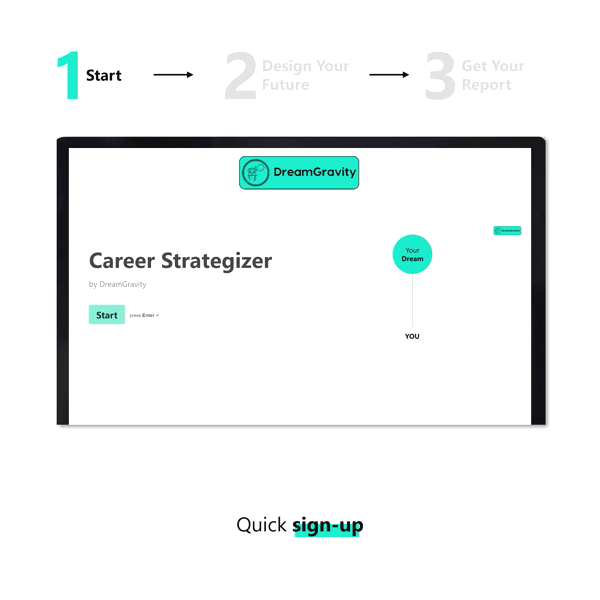 Career Planning

on Steroids
The world's first gamified, self-directed, and science-backed

Career Planning Tool

.
What Separates the Top 1% From the Rest?
A Professor of Psychology at the University of Pennsylvania conducted a study on the 'science of achievement' that aimed to isolate components best-predicted success in various fields from academics, business, and athletics.
The study revealed that that the secret to outstanding achievement is not talent but a special blend of passion and persistence she calls "grit."
Grit—a combination of passion and perseverance for a singularly important goal—is the hallmark of high achievers in every domain.
How Do You Apply Grit to Your Career?
A North Star is personal career mission or objective that is being pursued over a sustained period of time.
​
The North Star is broken into mid-level goals which are then broken down into low-level goals. This way, large, seemingly unattainable goals become more and more achievable as it gets broken into smaller and more achievable goals.
​
Goals work in harmony with one another. Each goal leads to another goal and ends up leading to one north star.
Career models are not born equal.
We have identified 4 career models commonly adopted. These career models are not born equal, one of them, "The Resilient" is scientifically proven to lead to more successful outcomes.
Take a look at the four career models in action. Click on the arrows to navigate through the slides. Which career model are you currently adopting?
Career Coaching, Reinvented from the Ground Up
Associate Consultant at Rizing HCM, ex- PWC Consultant
"I absolutely loved completing the exercise, I thought that they were going to push people into going for pre-determined career paths, but this exercise is completely self-led. It is a worthwhile experience and it could bring a lot of peace into your life as I know it has for me."
Ex-Analyst at Goldman Sachs Asset Management
"I found the Career Strategizer to be interesting and insightful! It'll be very useful for students, graduates, and professionals to have some guidance on areas to focus and think about."
Credit Risk Analyst at JP Morgan
"When I got the product, I was almost in tears. If you are a graduate or have just entered into your graduate role but you don't want to be stuck in the corporate world for a very long time because you have bigger, more audacious goals, then this product is definitely for you."
Growth at Stealth Restaurant Tech-Startup, Ex-Investment Banker
"For a career nerd like me, I really enjoyed the volume of content in the tool!"