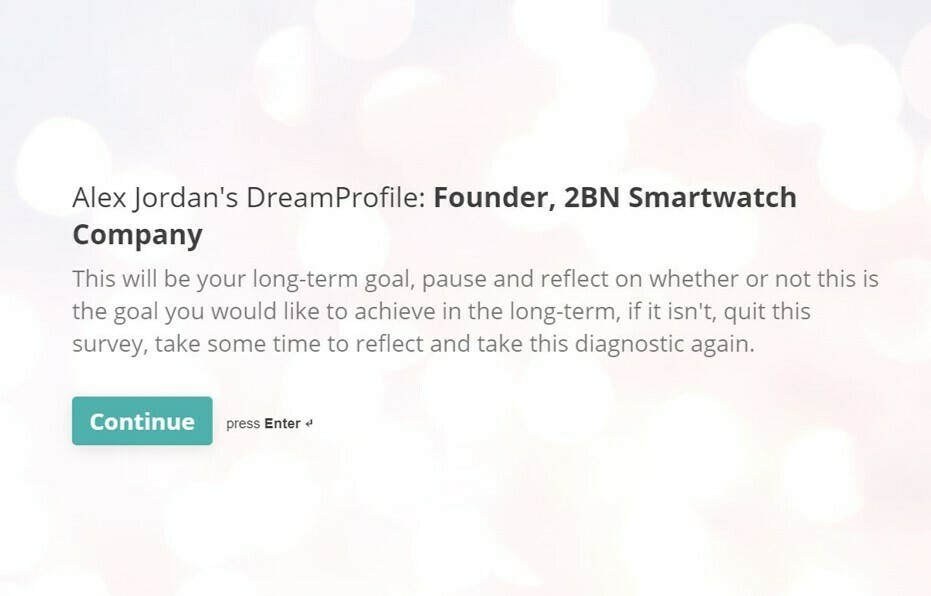 Our Career Strategizer is

100

% self-led.
We believe no one in this world is credible enough to tell you who

you

should become in life.

You

are the sole driver of your future.
​
We take you through a step-by-step guide in designing your career based on the latest scientific research on achievement, introduce you to cutting-edge concepts in career success, and provide you with examples from other people.
​
The output of the Career Strategizer is as as good as

you

want it to be.
​
Scroll below to find out whether DreamGravity is right for you.
​
​
We believe that no one in this world should be tell you what you can or cannot do. Unlike some career development alternatives in the market, we are not here to tell you what you should become based on your "strengths" and "weaknesses", instead, we will provide you with the right process, concepts and frameworks to lead you into a state of self-discovery
​
Our Career Strategizer Tool provides you with the following:
A guided, step-by-step process in designing your career

Frameworks to guide you through a state of self-discovery

Prompting questions to help you generate ideas

Career Design Examples from Consultants, Bankers, Entrepreneurs and more
Is DreamGravity perfect for you?
Trusted Partners of Our Customers.
Where some of our customers work.
Frequently Asked Questions (FAQ)
Q: I have just purchased the Career Strategizer, where can I find the link to the tool?
A: A link to the Career Strategizer will be generated and sent to your inbox within 24 hours.
Q: What will be included in the Personalized Report?
A: The Personalized Report is just a documentation of your responses in the Career Strategizer. Choose this option if you want to have the exercise documented so you can always refer to it as you move ahead in your career.
​
Q: Will you be giving us additional advise in the Personalized Report?
A: No. The Personalized Report is just a documentation of the output from your Career Strategizer. Every component in the document is built solely by you.
​
Q: If the entire exercise is completely done by myself, why do I need to spend money on the Career Strategizer?
A: You don't. You can do this all by yourself and not spend any money. The challenge for a lot of people is to research and figure out the entire process of career planning or career designing themselves which will take more time and effort. Purchasing the Career Strategizer will ensure that you can fully concentrate in designing your career, not figuring out the process of career design.
​
​